SuperSport United Football Club website conducted Q and A with goalkeeper Boalefa Pule regarding COVID19 and how much he misses teammates and the beautiful game.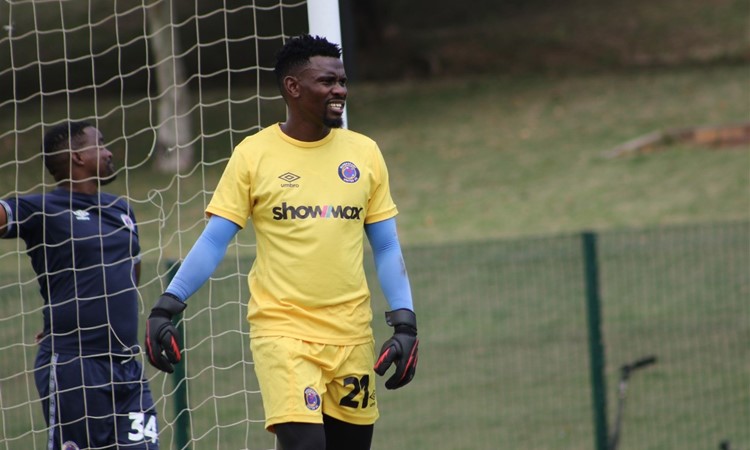 SuperSport United Football Club website conducted Q and A with goalkeeper Boalefa Pule regarding COVID19 and how much he misses teammates and the beautiful game.
What else do you do apart from football related activities you are doing on a daily basis?
Obviously with the lockdown and all one's routine has been compromised and all. Apart from my training programme I have been trying to read as many books, articles and listen to podcasts etc. (football related only). PlayStation and cards with the family.
Schools are sending some work for parents to help their children, are you participating to help your son with homework and other activities?
Me and my wife we share the workload but to be honest she has been doing most of the things lately, seems like my boy enjoys mommy's teaching than daddy's ones.
Apart from school work, what else are you helping in the household?
If I'm not helping Larona (Pule's son) with his schoolwork am doing the dishes to try help out in the house.
Can you cook? What dish are you good at?
 I am trying... I can make nice eggs, chicken wraps. I want to learn how to cook though, just have to make time for that.
Can you clean the house? Or maybe do some washing for very body in the house?
Absolutely, I can clean the house and do laundry. You know when you do the dishes you have to clean the kitchen floor as well, with laundry as long as you can operate the washing machine you good to go.
Who is doing the garden at your place? Are you able to do the Garden just to get your surrounding tidy?
I do the garden with my brother, we share the burden because we are responsible for messing it up during our training sessions. I have a very small garden though so it is easy to tidy up and make it look nice.
Your son plays football. Does he also helps you in a way to execute some of the exercises during the session since yours is not the same as other players' with regards to working on the ball?
My son likes trying to imitate what am trying to do (exercises), about him trying to help during my training session... I will end training him because he wants to do everything I do. I encourage him to do it because it serves as a good thing for him, to take a break from his gadgets and even schoolwork.
How much do you miss your teammates and everybody else in the team?
Yoh…this has been a difficult time for us (soccer players) but also good one for us because we have all the time to spend with our families. You know because of the culture of the club promoting unity and brotherhood amongst players, you get to miss that a lot when you don't feel it now and then. Luckily we have our players WhatsApp group chat were everyone is active and all, we do catch-up a lot with social media platforms. But we will meet once we get our way around this pandemic. You can imagine all this time not seeing our kit Managers – Bro Joe and Patrick Molepo good great father figures, our medical team, technical team, catering team and guys from the office. Just hope everyone is safe so we can all get back at it.
What is your message to the football supporters and your fans who miss live football as far as COVID19 is concerned?
To our fans (SuperSport United Football Club supporters) and all the football fans out there, firstly l would like to thank you guys for supporting our careers without you guys football won't be the same. Let us all stay at home and follow all the regulations set out by our Government to try and decrease the numbers of this virus in our country, we miss you guys as much as you miss the game. Stay home and stay safe!